One of the defining moments of my career was reading the Techcrunch headline "Content Curation Startup Livefyre Raises $47M More, Brings On Adobe And Salesforce As New Investors."
My first instinct was to congratulate Jordan Kretchmer, Livefyre's founder and CEO. However, seconds after reading the headline, I was brought back to a conversation I had with him just two months earlier about the reality of fundraising; How challenging it is, and the amount of travel he'd been doing to meet with investors and close deals.
Jordan's honesty that night exposed me to a side of startup life I'd never considered; The unrevealed grit that goes into producing the shiny headlines.
Last week, I had the pleasure of speaking with David Mandell, serial entrepreneur and the Founder of PivotDesk, the simplest way for businesses to find and share office space.
From the reality of fundraising to parting ways with his co-founder, and coping with "CEO schizophrenia," he shared some of the most valuable advice I've received on launching and scaling a business.
Here, as well in David's Beyond the Headline episode, you'll gain insight into what the connotative meaning of CEO is.
"Very few people understand what it's like to actually run a business. 99% of the people, or more, who say "I'm killing it!" are totally lying," he said.
Whether you're scrolling through your Twitter feed or browsing the latest tech blogs, you'll find countless titles about startups raising astronomical up rounds, bringing on senior hires and expanding nationwide in only six months.
What you won't find, is a description of how the company's leader is feeling.
Nothing about being a founder is easy, and startup life has little to no resemblance to the way it's depicted in the magazines.
"Everyone relies on you: Your investors, your employees, your family. It's a very, very lonely position.
People who haven't done it; They read articles. They hear stories. They don't understand the reality.
The articles and stories are designed to have excitement. There are no stories about the middle ground, the every day."
Take fundraising, for example, which David aptly describes as "scaling Mount Everest in a bikini."
Fundraising is hard. So the first time you're greeted with upwards of six zeros in your bank account you're ecstatic – Imagine the possibilities for growth and expansion.
Shortly after, David identifies this as the day after the announcement; you realize those zeroes "are only going to go down until you make them go up."
Now your stress is a whole different deal. The stopwatch is on, and it's all about time.
In a funding environment that many are coining as a bubble, David urges founders to raise capital at a valuation that is right for their company, not their competitors or investors.
The reality of raising a giant up-round is intense, and requires founders to ask themselves: "How do I make my business valuable enough so I can raise another round or be profitable before the money runs out?"
Both challenging tasks that can be detrimental to your company if you fail to complete them.
"These are gut-wrenching decisions. Like 'Mom, I lost your retirement money.' How do you deal with that kind of stuff? This is not for the faint of heart," David said.
Keeping their business financially afloat is only one of the challenges CEOs face.
In November 2014, PivotDesk announced that their co-founder Kelly Taylor would be leaving the company.
In a personal post, Kelly said, "I started visibly shaking, my mouth turned dry, and I started having trouble breathing."
"It's easy to look at the data, but the other side of it is the emotions. The emotional side is brutal. It was an incredibly difficult emotional decision, but you have to do what's right for the business," David shared.
Too many founders feel that they're alone in making these decisions. David recommends seeking mentors who have seen similar situations unfold and asking how the founders actions impacted the company.
"It's really important that you find people who have been there, done that, who understand you and are not vested in your business. That's what's going to help you get through the hard parts" he explained.
It's common adage that entrepreneurship is like a rollercoaster. For those of us not leading companies, it's likely we perceive it as the teacups ride at Disney when it really feels like Goliath.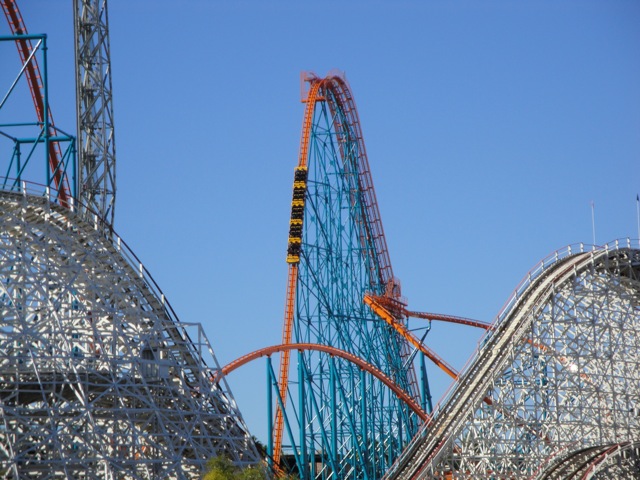 So if you know a founder or CEO, let them know that the drop they feel in their stomach in what feels like Goliath's never ending descent isn't unique to them.
"The reality is that 99.9 percent of the people you talk to aren't killing it. They're busting their ass every day to get that next round of funding, to get that next customer. They're stressing because one of their best employees is leaving, or their competitor is coming out with a new feature."
"This stuff is really, really hard. It's important that we're honest about it. That's the best way to help each other."
"There's nothing wrong with you because you're not killing it. Almost no one kills it until they do, and there's no way to know when that happens."
To gain deeper insight into David's journey as an entrepreneur tune into his episode of Beyond the Headline, follow him on Twitter, and subscribe to Pivot Desk's blog, Been There, Done That.