My fondest childhood memories are the countless businesses my best friend Chelsea, and I started.
From advertising our dog walking service as her Golden Retrievers dragged us across the neighborhood to The Teen Inside Scoop, (as if we were even a fraction cool enough to give advice), we were raised to believe that we could create anything.
The belief that we were creators is the primary reason I'm so excited about Brooke Moreland and Sara Chipps' latest venture Jewelbots.
Jewelbots are friendship bracelets for the iPhone era.
The bracelets are designed exclusively for pre-teens and teens. Girls can code their Jewelbots to receive social media notifications, be alerted when their friends are nearby, and even get weather updates.
The community is open-source, enabling girls to code and share as many features as their creativity inspires.
According to Brooke, the young girls are fearless.
Jewelbots is currently raising money on Kickstarter and has quadrupled their $30,000 goal.
They've raised over $136,000 and have eight days to go. If you'd like to support their movement you can do so here.
In addition to wishing Chelsea and I had Jewelbots growing up, I'm most intrigued by Brooke and Sara's work ensuring that girls don't have to give up their femininity to pursue a career in technology. Translation: You can code in a dress.
In fact, the founding premise of Jewelbots is that being feminine and working in technology aren't mutually exclusive.
With that in mind, Brooke and Sara are adamant that we stop dictating a prescribed childhood for budding programmers.
I think Sara puts it best in her personal blog, Papas, please let your babies grow up to be princesses, when she said:
"the opposite of science isn't girl
the opposite of build isn't girl
the opposite of make isn't girl
We shouldn't try to shoe-horn girls into our own concepts of what the childhood of a scientist looks like."
Jewelbots are designed to fit into girls existing behaviors.
"We didn't want to force them into new behaviors. We wanted to enhance the behaviors that are intuitive to them," Sara explained.
To do so, the team spent their first year working closely with teenage girls to observe their habits and interests.
The ability to communicate with their friends reigned most important, encouraging Brooke and Sara to hone in on those capabilities. Girls often code their bracelets to get brighter as their friends approach and buzz when they're around the corner.
Jewelbots also created Bring Your Daughter to Hack Day, which are day-long events for girls and their parents to build software and hardware.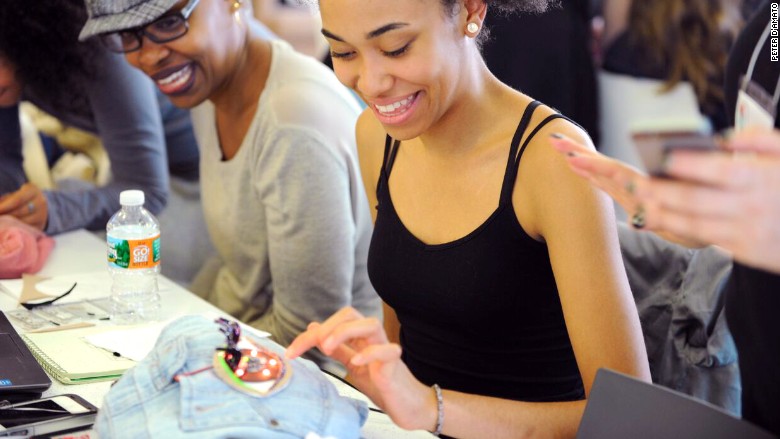 In pursuit of shifting girls from consumers to creators, the hack days are centered on creating tactile products that girls can use in their everyday lives. One of the teens attached a headlamp to her dress to improve efficiency on her camping trips.
We're helping them figure out that the creation of technology can be a way to achieve your goals.
Empowering girls to embrace technology in their daily lives, and among their friends, makes an enormous impact on keeping them in the STEM pipeline. By understanding that you don't have to wear a hoodie and jeans to be a programmer, initiatives like Jewelbots expose girls to technology in a way that fits and celebrates their interests.
To learn more about the Jewelbots mission tune into Brooke and Sara's episode of 33founders and sign up to receive updates through their newsletter here.
Here's a glimpse of what we discuss:
How Jewelbots bracelets empower girls to code
The success of Bring Your Daughter to Hack Day
Why women should celebrate being feminine and loving technology
The two most impactful lessons Brooke and Sara have learned